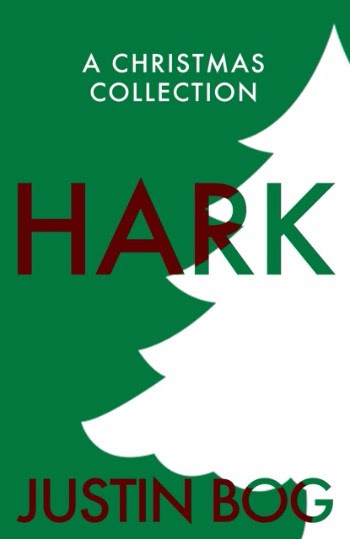 Hark---A Christmas Collection . . .
Genre: Fiction, Short Stories
HARK'S SIX LITERARY HOLIDAY TALES ARE NOT FOR KIDS—
THEY ARE FOR DISCERNING ADULTS CONTEMPLATING MORE THAN SIMPLE SUGARPLUM SWEETNESS.


Within Hark: A Christmas Collection, a retired police officer faces another Christmas Eve while bitter recollections haunt his every turn, a lonely businesswoman plans to seduce Santa Claus one Christmas Eve, a widow grows anxious searching for a misplaced present she intended to send to her ungrateful sister, a stubborn and brave woman can't keep the images of her past—these ghosts—from haunting the life she chooses to live; while attending a Christmas party in Sun Valley, Idaho, a bookstore clerk and his partner are taught a lesson most un-holiday-like, and, in the final story, a couple portrays Mr. & Mrs. Claus in their small island town's holiday festivities and face a grim diagnosis together.
"Justin Bog has proved over and over again that he is a master storyteller. He artfully takes simple situations and portrays the depth of emotions that a person can feel. This is the third book that I have read by this author, and he still manages to surprise me and keep me guessing. Polished language and smooth flow in his narration are his prime assets."—b00kr3vi3ws, goodreads
"HARK brings us six wonderful stories that occur at Christmastime. Unlike many books about this time of year, Mr. Bog's collection pays tribute to the season without being melodramatic or candy-cane sweet."—Eden Baylee, author of Charade at Sea and Stranger at Sunset
Justin Bog lives in the Pacific Northwest on Fidalgo Island. Justin Bog was Pop Cult
ure Correspondent and Editor for In Classic Style. He enjoys cooking, lawn mowing not so much, and spends time walking and handing out treats to two long coat German shepherds, Zippy and Kipling, and two barn cats, Ajax The Gray and Eartha Kitt'n.
Follow Justin Online:
Twitter: @JustinBog